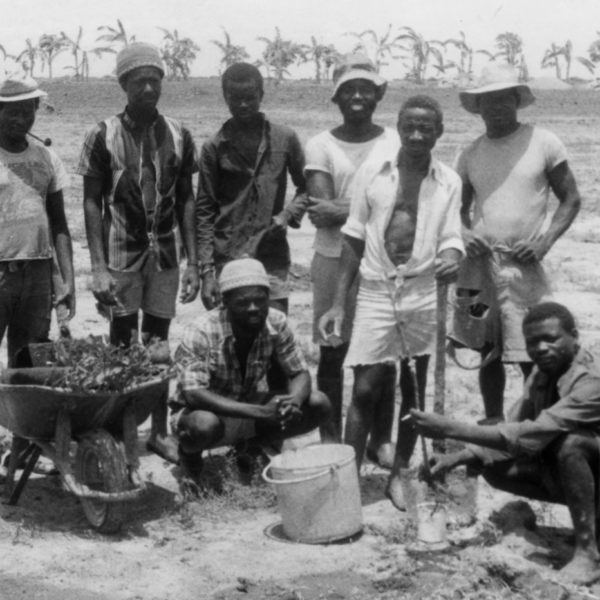 30.06.2017 – 05.08.2017

An exhibition, a seminar, a screening programme, and a book, conceived by Raphaël Grisey.
with works and contributions by
Revolution Afrique, Safi Faye,
Raphaël Grisey, Sidney Sokhona,
Bouba Touré, Kaddu Yaraax,
and a display designed
by Lorenzo Sandoval.
Sowing Somankidi Coura is a long-term research endeavor by Raphaël Grisey in collaboration with Bouba Touré around the permacultures and archives of Somankidi Coura, a self-organized cooperative along the Senegal river founded by a group of former African migrant workers and activists in France in 1977 after the Sahel drought of 1973. Sowing Somankidi Coura unfolds and generates cine-geographies that reveal the boundaries between the liberation struggles of migrant workers in France, the Pan-African history of the cooperative and potentialities of permaculture.
Through a practice of filmmaking and collective care, Sowing Somankidi Coura, engages in the articulation of narratives of empowerment and peasant alliances. The research navigates the liaisons across partial perspectives; situated knowledges and ecosystems; hetero-temporalities; affinities between soils, plants, animals and irrigation technologies; archives and reservoirs. Deploying diverse modes of image circulation, the work aimed at resisting forces of erosion, determination, national migration management politicies, and the patenting of (post)colonial agro-industries.